Pastor Sara Tonje is our Interim pastor and together we are working to discern the directions we want to steer our future ministry. Sara enjoys being in the ocean rather than walks on the beach, laughs easily, used to speak fluent Nepali, screams loud at basketball games, knows how to thread a needle, has an independent spirit, keeps a CDL driver's license and is the mother of three wonderful sons. 
 After a career in international development in Nepal (US Peace Corps, USAID, USIS) l, and a six year stint as a director of a pre-college program for American Indian students in her hometown in Rapid City, South Dakota (at SDSM&T), she began ordained ministry 20 years ago.   She is a lifelong Presbyterian with an undergraduate degree from Lewis and Clark College in Portland Oregon and an M.Div from Princeton Theological Seminary.
Sara's ministry interests include biblical storytelling, faith sharing with youth, care of people in the LGBTQIA community, mission work, cross cultural living and lively creative collaborative worship.
~Currently under construction while the website designer (me) moves. Please check back later.~
Allen graduated from UNL with a bachelor's and a master's degree in music education. He served active duty with the Marine Corps for 3 years, spending 14 months in Japan with the 3rd Marine Division. He played in the band and served as chaplain's assistant. Allen has directed two chapel choirs and teh 3rd MArine Divsion Glee Club.
After discharge from the Marine Corps, Allen took a job in Bellevue, NE as a vocal music teacher. Allen taught at Bellevue Highschool/Bellevue East Highschool for 36 years before retiring in 1992.
In January 2015, Ann Davis joined the staff at Underwood Hills Church as church secretary.  She is most likely your first point of contact as you enter the doors of UHPC.  Greeting all with a smile and salutation, Ann answers most of your questions regarding church business.
Through her creative style, she has warmed the pages of our newsletter (Hilltopper), bulletins, posters, and other church-related projects.  Ann is a trusted source of support to oversee the day-to-day administrative functions of Underwood Hills Church.  You can reach her at (402) 397-4318 or uhpc@msn.com.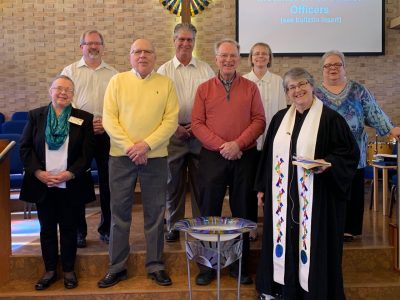 Session Class of 2019-2020
(From left to right) Sherry Rush, Bryan Morhardt, Tom Olson, Ron Bousquet, Lee Shell, Sandy Leedom, Pastor Sara Tonje, Diane Greenfield